Folklore cajun (14) - Joe Falcon et Cleoma Breaux
Joe Falcon & Cleoma Breaux

Description : Some rare 78s from the collections of Joe Bussard of Frederick, Maryland, and Lyle Ferbrache of Milpitas, California. Great accordion, great singing from the husband and wife team of Joseph Falcon and Cleoma Breaux of Rayne! These songs are from the late 20s, early 30s. They were some of the Cajun music sensations of those days, being the first to record commercially. Waltz that Carried Me to My Grave was side A, Lafayette (Allons a Lafayette) was side B. Joe was known for how he could "turn" a song with the bridge or B part. And Cleoma (sister of the fabled Breaux Brothers) may be Cajun music's best loved female artist. Fee Fee Poncheaux? Non, mais ça sc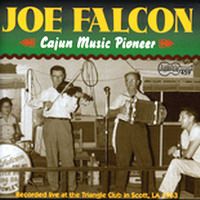 orch! Mon View d'Autrefois (My Old Used to Be), too!
Cajun music historian Ron Brown of Athens, Tennessee points out that the recordings Cleoma and Joe made for Decca records in New York, New Orleans, and San Antonio in 1934, 1936, and 1937 (and their recordings for Bluebird) are among the most cherished! They recorded under Cleoma's name, under Joe's name, and as the Falcon Trio, with fiddlers Ulysse Falcon on some sessions or Mose Morgan on others. It's possible that Cleoma's brothers Clifford or Ophy of the Breaux Brothers appeared on some of them, as well.
I'm struck by how Cleoma seemed to like to sing "American" songs from the old time country and blues repertoires, sometimes in English. There are two versions of the same song here, one in English and one in French, with Raise Your Window High and Ouvrez Grand ma Fenetre. Lulu's Back in Town is her French version of a popular song of the day. Careless Love, It's a Sin to Tell a Lie, I Don't Want Your Greenback Dollar, and Just Because get "Cajunized" here. See the 1920s-30s section for her version of Going Down the Road Feeling Bad, and hear her accompany her brothers on Continuez de Sonner (Keep a Knockin but You Can't Come In)! Another thing that strikes me is how Joe's melodies appear again and again in the standard Cajun music repertoire under different names! Ma Valse Preferé, for example, sounds like Grand Mamou; La Valse Crowley like the Lafayette Playboys Waltz; Frisco like Vermilion Two Step; Pin Solitaire like the B.O. Sparkle; Mon Favori Waltz like Valse de Grand Bois; Au Revoir Cherie like Evangeline Special; Le Nuit Samedi like the Valse de Samedi au Soir; Ne Buvez Plus Jamais like J'etais au Bal; Valse de Baldwin like Chere Alice; etc. Joe's name doesn't always pop up in lists of all time top Cajun accordionists, but I will say this. He's not flashy but he sure keeps good time! I really like the tension he builds in a song's bridge.
Please excuse the sound quality of some of these rare 78s.